25,000 Tons of Steel in 110 Days
Scrap Recycling & Handling
25,000 Tons of Steel in 110 Days
While it does not set out to do so, the demolition component of Tervita Corporation's Environmental Services division is used to turning heads. The company recently lifted a Cat 325 excavator to the top of an eight-story building to demo it from the top down. And, on a recently-completed project in the Alberta oil sands, the division performed an even more impressive feat, dismantling some truly mammoth structures and equipment and processing the more than 25,000 tons of steel it represented within a tight 110-day window. To make that happen, they assembled a fleet of mobile demolition attachments, including some of the largest Genesis mobile shears at work today. In the process, they further solidified their reputation as one of Canada's preeminent firms for safe, effective and impressive demolition results.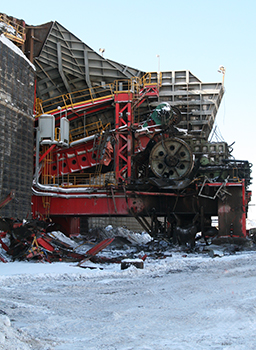 Visit the oil sands of Alberta, Canada and one is immediately impressed by the sheer scale of the projects taking place. Developments capable of generating anywhere from 50,000 to nearly a half million barrels of oil per day dot the more than 54,000 square mile Athabasca Sands deposit. Not surprisingly, the equipment used to extract oil from these oil sands is equally impressive, including everything from bucket-wheel excavators the size of a building to haul trucks with 500 ton payloads. According to Duane Dale, Tervita's demolition superintendent, on most of the major operations in The Sands, equipment that has reached the end of its useful life is generally brought down, cut up or crushed, and disposed of accordingly, almost as if it never existed.
"It might not make sense to the layperson, but companies working in the oil sands generally prefer to scrap a component or system rather than re-use or repurpose it and risk any potential liability," he said. "As a result, gigantic shovels and crushers capable of mind-boggling hourly production rates are seemingly in place one week and gone the next."
Tervita is one of the few companies well-positioned to tackle a project as formidable as oil sands equipment decommissioning. Originally formed in 1979 as a well-servicing company, Tervita has grown over the years through a series of strategic acquisitions to more than 2,000 employees and now offers a comprehensive array of environmental solutions, including oil and gas demolition. So when one of the major holding companies in the oil sands needed a firm to tackle its massive on-site demolition efforts, Tervita was the logical choice. In late November 2014, they mobilized to the Fort McMurray site and started work shortly thereafter.
"For a number of reasons, we feel we have a distinct advantage over many other demolition companies: we've done this type of work for a while now, and we have an enviable safety track record and the broad range of tools needed to get the job done quickly and efficiently," said Dale.
As work progressed, Tervita was responsible for demolishing and processing what is considered general oil sands production equipment — mammoth crushers, sizers, conveying and separating equipment, some mining tires, heavy-duty conveyor belting and process piping — and shipping it to regional scrap facilities for recycling.
Because the scope of work at the Ft. McMurray site was as varied as it was imposing, everything from structural dismantling and processing to concrete crushing, Tervita's arsenal of tools had to be equally diverse. They answered that call with a fleet of nine Genesis attachments.
"The tools ranged from an LXP® 200 multi-processor to a GXP 1200R mobile shear and everything in between," Dale said. "The LXP was our utility attachment and, for a smaller tool, its impact was huge. We used it for things like processing concrete, as well as shearing items such as handrail, expanded metal grating and some small diameter cable. Because so many of the areas we were demoing were fairly high, we had three mid-sized demolition shears — a GXP 400R, a GXP 440R and a GXT 445R — mounted third-member, which were primarily responsible for much of our high-angle demolition. The more than 40 feet of reach provided was outstanding in areas such as the mid-drives and some of the conveyors feeding them, which were quite high."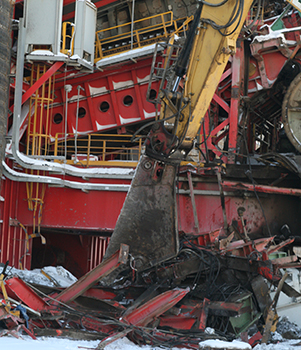 For structures exceeding 40 feet of reach, Tervita had a Genesis GXP 660R shear third-member mounted on a Cat 365 outfitted with a Jewel hydraulic tilt cab and a 70-foot demo boom. For facets of the demo in which the material was sizeable but easily accessible, all the lower portions of the massive crushers for example, Dale's crews used a trio of GXP 990R mobile shears, each of which offered a jaw opening and depth of 35 inches.
"The 990s were outstanding and, once material was on the ground, responsible for processing it to mill spec," he said. "In addition, they did the bulk of the work cutting the massive volumes of process pipe removed from the site, material that could be as large as 30 inches in diameter with a wall thickness of greater than half an inch. They were the real workhorses out there."
Many of the crusher components, as well as much of the other material encountered, were built for the severe-duty nature of oil production and, as a result, were heartier than anything generally encountered in a standard demolition. For those segments of the project, as well as for processing large volumes of dragline cable and 36-inch diameter process piping, Tervita brought in the heavy artillery: a Genesis GXP 1200R mobile shear.
"It literally never stopped impressing us," he said. "On those crushers, and there were three of them on-site, our operators were skillful at popping welds to access baffle plates, base plates and other material that was 1 1/2-inches thick and thicker — it cut it all."
The dragline cable was present in large volumes of 3- and 4-inch diameters, depending on the machine from which it came. He says having shears capable of cutting that cable was an outstanding advantage.
"This material was not just large in diameter, it was also poly-coated which would have made any other type of processing really difficult if not impossible," he said. "Instead, using either the 1200R or any of the 900s, we were able to cut as many as three strands of the cable at a time to manageable lengths."
Other material processed at the Ft. McMurray site included a limited number of large mining tires, concrete from the bases of demolished structures and equipment, and a seemingly never-ending supply of conveyor belting.
"We cut more than 10 kilometers of belting," said Dale. "That's material that is more than 2 inches thick, has a 3/16-inch steel cable running through it and can be as wide as 90 inches. We used the mobile shears to cut it into 30-foot lengths, then threw it onto flatbed trailers and sent it to a new home where it can be used in everything from industrial areas to dairy barn flooring. Almost everything on the site will have a subsequent life in one way or another."
On a project such as this, the dollars invested in keeping things moving are staggering. As a result, maintaining production in all facets of the on-site operation, including demolition of the decommissioned equipment, was vital.
According to Dale, "We learned early that if you value your contract, you simply cannot impact your customer's ability to generate product; and that just makes sense. So we brought the tools needed to ensure the job was done right, safely and in as efficient a manner as possible. Having the range of processing capabilities was not only a nice strength, it also met our customer's needs and timeline. Not many firms can boast having cut, processed and loaded out more than 25,000 tons of steel in 110 days in a remote setting, let alone in an environment such as that in northeastern Alberta. The Genesis shears helped make it all happen and never let us down."