First New Genesis GXT Mobile Shear Gets to Work in Alberta Scrap Yard
First New Genesis GXT Mobile Shear Gets to Work in Alberta Scrap Yard
As anyone in the metals recycling business will attest, theirs is a production and volume focused industry. Metals recycling company owners, and their yard managers and equipment procurement staff are continually seeking out equipment that can further increase efficiency. So when Tervita Metals Recycling learned Genesis Attachments was introducing a new line of mobile shears, the GXT, based upon its industry-leading GXP mobile shears, it was intrigued. When it was contacted to beta-test the GXT, it was elated. Already a committed Genesis customer with nine shears operating in various locations, the company gladly accepted the GXT prototype into its Red Deer, Alberta location. By the time testing was complete, Tervita was so impressed with the GXT's performance they purchased the first GXT 665R off the line.
Tervita is a leading North American environmental and energy services company. Its metals recycling division, formerly known as HMI Industries, was rebranded as Tervita in March 2012. Based out of Red Deer, Tervita Metals Recycling also operates yards in Peace River and Fort McMurray, Alberta. The Red Deer location is the hub for the region and, according to Stuart Sharpe, Tervita's vice president for metals recycling, was ideally suited and ready to put the GXT through its paces.
"Genesis is unique in that they came to customers like us early on and asked what changes we felt could further elevate their shears' performance," he said. "We are fortunate to have a 28-year veteran shear operator named Quang Nguyen on staff for whom a shear is an extension of himself. He was happy to provide input, and when the GXT prototype arrived, he immediately spotted some design changes that were the result of his suggestions. We value Quang here so much that when he talks shears we listen; apparently Genesis shares that same level of confidence."
Tervita tested the GXT from September 2012 through February 2013, and the timing couldn't have been better as Tervita was already considering trading in an existing Genesis GXP 660R on a new identical model.
Sharpe says, to the layman, the new GXT mobile shear looks very similar to the GXP, but upon close examination, the differences become obvious. "The GXT has the familiar look and profile, but some internal changes have been major. By reversing the hydraulic cylinder mounting, for example, Genesis reduced the shear's weight by about 1,000 pounds and moved the center of gravity back toward the excavator, without sacrificing performance. This means the GXT shear can be mounted on a lighter carrier—in our case, a 70,000 lb. machine. To operations like ours, lighter excavators save money, not only in the capital expense of the machine itself, but also in lowered hourly operating costs, because smaller machines burn less fuel. And, from a 'green' perspective, a smaller excavator also reduces emissions, an added benefit we hadn't expected."
Because a big part of its business includes serving several major railways in western Canada and responding to derailments, Tervita tends to run 40-50 ton class machines. However, for cases in which they do off-site work such as yard clean ups for other processors, smaller machines are less costly to transport and far more agile in a customer's site.
With the prototype in place, Tervita set it to work doing most of the cutting generally done by the GXP 660R. Sharpe says his operators immediately noticed a difference in how it felt on the machine.
"Being lighter—so light, in fact, there's no requirement for additional counterweight on the back of the machine—the first thing they noticed was the absence of the rocking sensation so common to heavier shears," he says. "However, there was no denying the power was still there. We put it into some very heavy material, including 1-1/2-inch thick I-beams and 3-1/2-inch diameter shovel cable that we got out of the mines."
According to Sharpe, much of the heavier plate, shovel cable and structural material they get on a regular basis comes from the Fort McMurray oil sands region, an area in which almost everything is larger-than-life.
"I'm sure that's one reason Genesis chose us as a test site for the GXT 665R," he says. "They knew the shear would get more of a workout here than probably anywhere else. We didn't disappoint and neither did the attachment. We wanted this shear when it was released, so when it debuted at the 2013 Institute of Scrap Recycling Industries Expo, we purchased the unit off the show floor."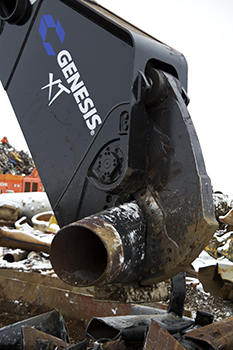 As is the case with every shear in its fleet, Tervita's new GXT 665R came delivered with Genesis Shear Jaw Armor™ already in place. Sharpe and his team are huge proponents of the protective material and feel any scrap processor would be foolish ordering a shear without it.
"Back when Genesis was first developing their Jaw Armor concept, we were looking into a similar system of our own," says Sharpe. "However, because they can custom design their components to fit each of our nine shears perfectly, it just made sense to go with the Jaw Armor, and now, quite frankly, we will not run without it."
The rationale for that use is quite simple. In the past, if they worked a shear too hard, they'd get down past the wear surface and cut into the shear's parent metal.
"In such cases, you can build up that material, but you can never really replace it," he says. "With Jaw Armor, we've eliminated that risk and the associated downtime."
Sharpe adds the new GXT shear will find a good deal of use at the Fort McMurray and Peace River sites because onsite machine movement is important. "It's the perfect tool for those locations," he says. "Having such a powerful shear on a lighter carrier is absolutely the way to go. In fact, when it comes time to change out our next GXP 660 or perhaps upgrade our GXP 400, there's no doubt it will be with another GXT shear. We were excited to have played a role in its evolution and see it as the future of shearing technology."