XP Mobile Shears Reduce Massive Oil Platforms to Pieces
XP Mobile Shears Reduce Massive Oil Platforms to Pieces
Despite the downturn in the oil market, the hundreds of platforms dotting the Gulf of Mexico still need to be maintained and, in many instances, replaced. When the latter occurs, the platforms are usually partially disassembled at sea, where the larger components are placed on barges and sent to Gibson, La., the home of Modern American Recycling Services (MARS). There, owner Dwight "Butch" Caton and a team of scrap recycling professionals combine mobile shear technology with traditional processing methods, reducing the massive rig components to manageable sized scrap in an impressively short period of time.
A native of Alabama, but living in Ohio at the time, Butch Caton became enamored with the concept of scrap recycling in 1971 when a neighbor asked if he wanted a pair of scrapped autos sitting on his property next door. Caton said "yes," rented a torch, cut the cars down, sold the scrap and launched a career.
"At that time, I didn't even own my own pickup truck — that belonged to my next door neighbor as well," he said. "But I was able to get a start in the business and, because southern boys and cold don't go well together, I ended up back here in Louisiana. At the outset, I went all over the country buying whatever I could, anything from horse and cattle trailers to trucks and mining equipment. I've always had an eye on steady growth and that seemed to figure into the size of materials we processed as well. So one day when we were offered the chance to process a massive barge, we didn't hesitate to take the job. And it's all just grown from there."
And grow it has. Caton said he's had as many as nine yards operating at once in and around the New Orleans area, but a combination of logistics and a need to have better material control prompted a consolidation in recent years. Today, MARS operates two full-service facilities: its 30-acre Waggaman yard near New Orleans and the much larger 74-acre Gibson, La., facility.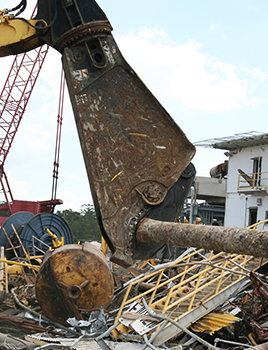 While MARS does most of its barge and ship decommissioning work at the Waggaman yard, cutting an average of 85 barges per month, the site also processes scrap it collects in rolloff containers located throughout the area. The Gibson location offers a similar collection service to residents in a three-parish area but differs greatly in the scope of what it can handle.
"We've really made a name for ourselves through our ability to take in oil platform decks and jackets and offload and process them faster than anyone else in the area," said Caton. "These structures can weigh anywhere from 200 tons to 4,000 tons and are loaded onto massive barges at locations throughout the Gulf."
Given that customers can pay anywhere from $3,500 to $8,000 a day for barge rental depending on the size, Caton said his customers need that vessel offloaded and returned as quickly as possible.
"We've proven over time that we're the ones who can do that for them," he said. "In the past six years, we have processed over 750 platforms and jackets."
The technology to which Caton alludes includes GXP 1000R and GXP 1500R mobile shears that take the lead in processing the platform decks as well as all the jacket cross-braces, the tower-like structures that support the rig beneath the water's surface.
"Unlike a lot of people, I'm not going to say that because I have mobile shears, I don't need torches. That's not the case at all; we are always going to need torches, because even shears have their limits. But there are definitely some applications in which the shears make the difference, and this is one of them. Processing a decent sized jacket to prepared sizes can easily involve about two days' work with several torch cutters. I can do that same jacket myself in three hours using a Genesis shear. There's just no comparison between the two."
Caton got his first introduction to Genesis shears around 1999 when he acquired one along with a machine as part of a scrap yard purchase package. The pairing of the Genesis shear with the excavator was poor, resulting in a less-than-spectacular performance which he knew was not the shear's fault.
"I suspected immediately that the problem was with the excavator, not the shear, and I later proved that," he said. "Since that time I've been working with the team at the Lafayette branch of CLM Equipment and have upgraded my Genesis shears every two years due to the severe environment in which they work out here. We are currently using a 1000R and 1500R, and those two units are largely the reason we can turn things around so quickly here at the Gibson location."
Because of the important role the shears play in his operation, Caton insists on adherence to proper maintenance routines. That includes a comprehensive jaw build-up and hard-surfacing every three months.
"We rotate maintenance on the shears so that when one is down for a build-up, the other is picking up the slack," he said. "For us, the build-up and hard-surfacing portion of the routine takes between a day and a day and a half because we allow for the proper pre-heating. We know what the shears can do when they are at their best, so doing it any other way would be self-defeating. Over the years, I've tried a lot of different brands of mobile shears and, almost without fail, I've had trouble with them: cylinder problems, valve problems, blade problems, frame problems, you name it. I don't have any of those issues with Genesis shears. They do what we ask of them — all day, every day."
Because of ongoing arrangements with the oil industry and supporting companies, material MARS takes in on a regular basis obviously differs from what can be found in a more traditional scrap yard setting. One such material, a concrete-filled pipe called a conductor, regularly finds its way into MARS' yard. Despite its complex construction and decent size, which can vary from 24 to 30 inches in diameter, all conductors are processed using their Genesis shears.
"Conductors are essentially pipes within a pipe, with each section separated from the other by a hardened grout material," said Caton. "To handle those, we split the outside shell and, with that casing removed, we can easily get at and use the shear to cut the two or three individual strings inside that pipe. It's a situation that could be a real nightmare, but the Genesis shears make it simple."
The success Butch Caton has had processing decommissioned oil rigs has not escaped the attention of companies seeking to do similar work in the oil-rich North Sea region. For several years he has been approached to establish an overseas division of his company, and for years he has resisted. Their most recent overtures, however, struck a chord, and as a result, Caton will soon be working his decommissioning magic in Denmark's Port of Frederikshavn.
"There are roughly 700 platforms in the North Sea, massive rigs weighing anywhere from 6,000 tons to 45,000 tons, in need of decommissioning and no one to process them," he said. "The Danish government has gone to great lengths to make this happen, including hiring someone to represent us in visits to countries that will be key players in this effort. Their belief in our capability was real; that made us agree to do it."
At the 250-acre Port of Frederikshavn, MARS will have an 80-acre presence which, with the pending approval of a graving dock, could take that number to 130 acres.
"They are also leaving some additional room for us to grow, so this will be quite an operation," said Caton. "We are looking at being up and running some time in 2017 and, when we are, we will stay with the technique that's proven so successful for us. We will have a good plan, a quality workforce and the technology, including several Genesis shears, to bring it all together."